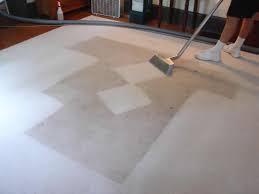 Have you ever made a mistake when cleaning your own carpets? Perhaps you have hired a bad company to do it for you in the past. Whatever the case may be, this time around you want to get it right. Continue reading to learn more about finding a competent carpet cleaning service.
Make sure that you get a professional clean for your carpet at least once every year. This will ensure that you are getting all of the dirt, grime and bacteria that your regular vacuum could not reach. After a professional clean, your carpet will look as if you just purchased it new.
Get a referral from a friend. Talk to your friends and family members and ask if any of them have recently had their carpets clean. Any information, whether good or bad, can be useful. In addition, you can be sure that their review of the carpet cleaning company is genuine, and not a paid placement to draw in business.
Avoid hiring a cleaning company that you've only seen in an ad on television. Many times, these companies are very inexperienced, but they are trying to attract people using flashy advertisements. You need to meet with all prospective cleaning companies in person and you should "interview" several before hiring one.
Always research the company that you are hiring to clean your carpets. They need to be bonded and insured before they set foot inside your house. If they are not, then you are going to be in a bad position if a worker gets hurt inside your home or a worker decides to steal from you.
Make sure that the company you use to clean your carpets guarantees that they can get down to the padding that lays under your carpets. This is where most of the stains settle, so the only way to truly get the carpets clean is to penetrate this layer. If they can not guarantee it, you should find a new cleaner.
Before deciding on a carpet business, you should ask them how much experience they have. In other words, you should ask how long they've been in business. This is very important to know. A business with a lot of experience should have tons of client testimonials that you can check out in order to decide whether or not this business is right for you.
If you have areas of the carpet that are soiled pretty badly, you may want to ask if you will be charged extra for that. Some companies charge a flat rate per square foot, but others may try to charge you more to get rid of any stains that are heavy.
Every company will offer a variety of methods for cleaning your carpet, but not every firm offers the same options. One such method is the use of a dry foam, applying foam to the carpet with a brush, then having a wet vacuum suck it up. Certain carpet fibers require this method.
You don't want to suffer through paying extra money just to fix mistakes made by a carpet cleaning service that doesn't get the job done. Instead, you want to get everything done the first time at the right price. Remember everything you've read so that you can make the right decision.
PLEASE CALL US NOW! 310-945-2565